Shadow BTR hub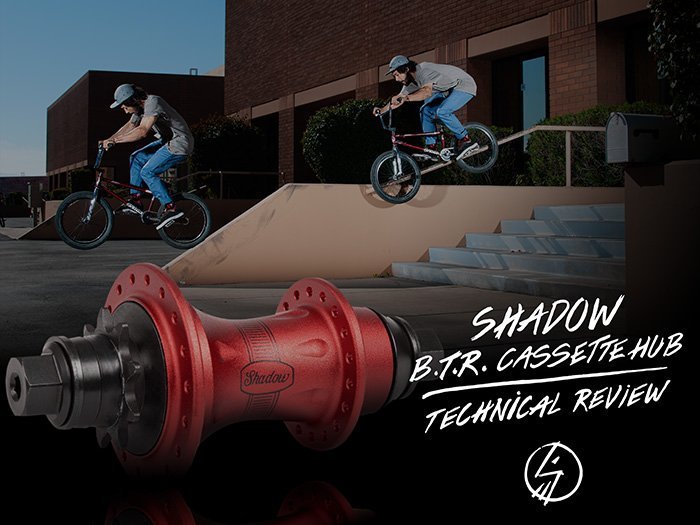 The Shadow Conspiracy went about designing  the Shadow BTR Hub with one purpose in mind – to create the strongest and most reliable hub available to the BMX market!
With those stated goals, we then put a focus on the parts of a cassette hub that fail most often.
Namely the axle and the driver…
Axle:
We wanted to go with the female style of axle, not only to give the hub a clean, slim, modern look, but also to solve the problem of damaged threads on the exposed ends of traditional male axle. Most female type hubs on the market have 14mm axles that are basically cut and drilled for the 3/8″ (10mm) bolt. This leaves a small portion of the axle in the dropout, allowing additional leverage on the bolt when pegs are used. Many also have axle threads on the outside and inner threading as well- a design further weakens the axle assembly, Not to mention that additional spacers are usually required to install the peg to a 3/8″ bolt – nothing but trouble!
For the BTR we have gone with a 17mm inner axle, that is smooth with no threading on the outside for maximum strength, and 14mm bolts. That's 40% bigger bolts and 22% more axle at basically the same weight. The axle is hollow with an 8mm hex broach and slide on hardware that makes maintenance and installing hub guards a breeze. Just slide off the cone and slide on the BTR hub guard of your choice. Even with both drive and non-drive guards installed the hub width maintains 110mm
Driver:
With the 17mm axle, we knew that the use of a traditional cartridge bearing would not be durable enough for this project. So we spec'd a polymer bushing, ending the problem of blown driver bearings. We used our proven Raptor driver configuration – 4 CNC'd, heat treated cro-mo pawls and 4 individual leaf springs and adapted it to the BTR 17mm axle. The pawls all engage simultaneously for solid engagement. Trouble free and easy to maintain.
More photos of the hub and guards here