Lahsaan Kobza Chula Upload Stem
The idea for Lahsaan Kobza's signature Chula Upload stem came pretty naturally. Harnessing his old school race roots, Lahsaan wanted a stem that featured classic BMX styling while also providing a few key features.
With its "Upload" design the Chula stem gives you a little bit more height in the front end of your bike without having to add headset spacers or get new bars. It also allows you to keep your current height while dropping a few spacers and getting that nice slammed look.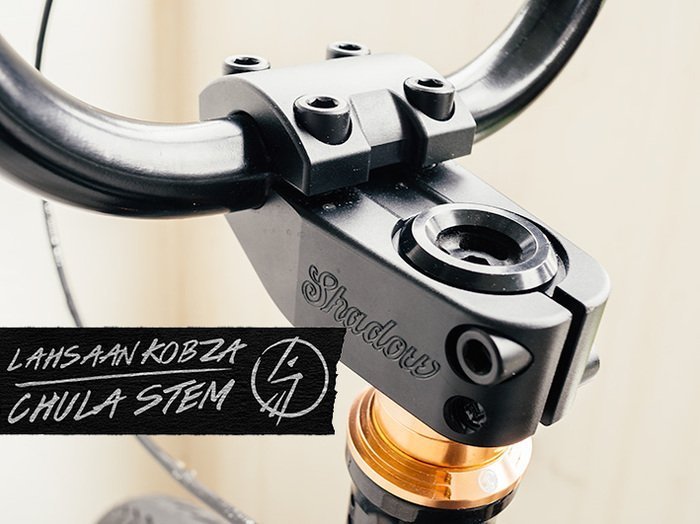 Along with the classic look, Lahsaan wanted something that would hold up to the gnarly gaps and drops he encounters out on the streets. The wide clamping area and oversized bolts make sure that this won't fail under any circumstance.
The ideal bar bore diameter is 22.2mm, but during the machining process, there can be a tolerance of up to +/- .3mm. What this means is that the bar clamping area can be as high as 22.5mm, making the area larger than it should be, allowing the bars to slip, due to the excessive size and a poor fit. With an improved machining process and very tight quality control, Shadow has reduced the +/- tolerance to a minuscule +/-.05mm. This insures that the bar bore size is not compromised and offers the best fit and a firm grip on the bars for less slip on those big gaps.
The Shadow Chula Upload Stem uses oversize 12mm diameter head, solid M8 size bolts in 25mm length. The hex seat is also 5mm deep for more bite on the wrench when installing. Other stems use the smaller 10mm head, with a 3mm shallow hex seat and under 20mm in length. This can lead to stripped and broken bolts, as well as the opportunity for the shorter bolt to pull out of the stem body, since they are not threaded as deep.
CNC machined and finished off with our Classic Shadow logo laser cut into the side, the Lahsaan Kobza signature Chula Upload stem is everything you want in a stem and more. Pick yours up today wherever Shadow products are sold!