Shadow DCR grips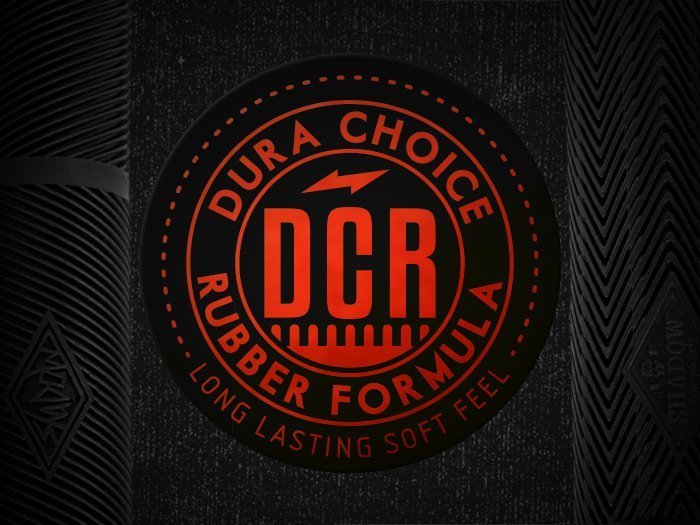 Formula:
When we started working on the DCR Grip Formula, we had one design goal in mind. To create our own rubber formula that would allow us to manufacture our grips with superb durability as well as superior comfort. Working closely with our rubber supplier, we we're able to tweak the blend of our existing grip rubber to our likening. By adjusting the levels of rubber, oils, resins, & fillers that made up the actual rubber blend, we we're able to create our own rubber formula that had two characteristics that aren't normally associated with each other: The perfect grip feel as well as outstanding durability.
Machine test:
While working on the DCR Grip Formula, we utilized our machine testing capabilities to put samples through the ringer. We tested the longevity of the different samples with abrasion testing and the structure of these samples with pressure and stretch tests. Once we we're finally happy with the machine testing results, it was time to give these to the team.

Rider tested:
Our team riders are very hard on grips. They are very specific about the feel and performance of our grips, so to say they we're delighted to try the new DCR formula is an understatement. After testing the DCR Formula grips over a period of 6 months, the biggest feedback we received regarded the longevity of the DCR Formula. After a short break in period, which included about 2 sessions, these grips we're as comfortable as our previous "Soft Durometer" grips. However, they lasted over 5 times as long! The team also noticed the improved structure that the DCR formula added to the grips by touching on how they just did not twist and we're very resistant to stretching. Once all of our team riders concluded that they we're happy with the DCR formula we knew we had a winner.
Introducing the new Shadow DCR grip Formula. The next evolution in BMX Grips.