Parano Garage
Behind the Scenes with the Shadow K.I.L. Shop Battle Winners
Parano Garage, the winners of the first ever Shadow K.I.L. Shop Battle, really went above and beyond to create an amazing video showcasing their team and their shop. Scroll down to see a few behind the scenes photos of what it took to create this incredible video featuring some truly original riding.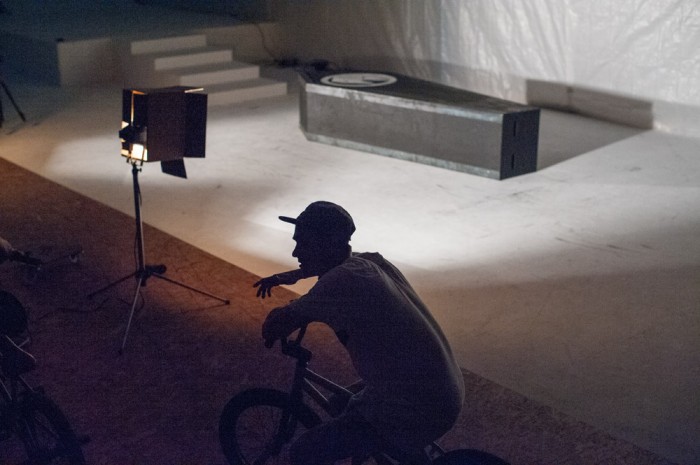 "For us planning and building the course was so much fun. It was quite a lot of work but we had so much fun seeing this baby growing up and when everything was finally done and the setup was ready to shred, we were really impressed about how good everything looked and worked. Then a few days later, when the riders and the filmer showed up and freaked out completely, we felt even more proud. At that point we didn´t even think about winning the shop-battle, we were just stoked to make the riders happy and show everyone that we are a great crew who are able to do amazing things together." -
Parano Garage
Eddie Baum
Rider from Siegen/Eiserfeld "I loved the idea. It gives smaller BMX shops and less known riders a platform to show the BMX world their skills. One of the best memories for me was when Bruno landed his banger."
Bruno Hoffman
Rider from Frankfurt "I thought it was a great idea. Everyone was able to get creative and have a good time. The best moment was when Eddie pulled the x pegs hard 180 and the free beer and food we had the whole time."
Daniel Tünte
Rider from Telgte "The Shadow Shop Battle was a great opportunity. Being able to session this awesome setup with the crew, eating delicious homemade food from Janns´ wife, and partying after filming with all the boys."
Felix Prangenberg
Rider from Rossbach "I thought the Shadow K.I.L. Shop Battle was a cool thing. It's a new and unique concept which involves the whole BMX community and presents the shop to the whole world. It's good advertisement and you have a lot of fun filming with your friends. I was so stoked when I landed my first feeble hard truck and Daniel pulling an unluc-e hard 180 to fakie whip, that was incredible. The whole weekend was just perfect!"
Timm Wiegmann
Filmer/Editor from Cologne "I really liked the concept of the Shadow K.I.L. Shop Battle. There are not enough video conests these days even though videos are a huge part of BMX and the professionals promoting themselves. The concept of our video was simple and clean. I always loved the aesthetic of lighting spots to guide the viewers attention to one certain part of the shot. Getting rid of the background and surroundings by using white paint to cover the obstacles, walls, and floors just increased that guidance. The fog machine might have been a little over the top, haha, but I still enjoyed playing around with it for certain shots. I really love the outcome of this project!"