Shadow Ecuador KIL Trip
Photo Update Numero Uno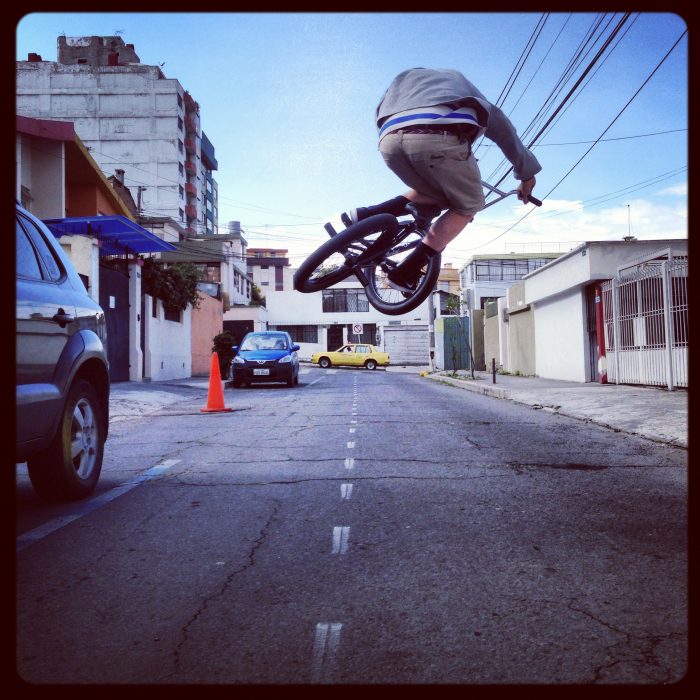 The Shadow Ecuador KIL Trip has been underway for a few days and boy has it been interesting! To start it off, Seth Kimbrough came down with SEVER Vertigo the day before we were supposed to leave and was unable to travel with us. A hard pill to swallow, but Simone and I made the best of it. We arrived in Quito and were greeted by the Zona Extrema crew. These are some of the nicest people we have ever encountered and we couldn't be happier to have them as part of the Shadow family. We pedaled around town and checked out the 40 year old snake run in the center of the city that serves as Quito's main skatepark. It's definitely a wild scene with some real badass riders.
The next few days involved going to the Latitude 0 BMX Contest at the old abandoned airport in the center of the city. The scene was awesome. Riders from all over South America came out to shred the contest and meet Simone. There were probably 30 or 40 riders surrounding Simone at all times asking for pictures or autographs. The Italian took it in stride and made sure everyone was happy. We watched the contest, drank some water out of a bag, and met Simone's biggest fan.
Coming up we got a lot of street riding to do and hopefully we'll come out with some bangers for the Shadow DVD. Check out our photos from the road and keep an eye out for more like this on our Instagram @theshadowconspiracy, our Facebook, or our Twitter. Til next time!
Adios!
– Chadwick