Sparkys Distribution is hiring for a Production Development Assistant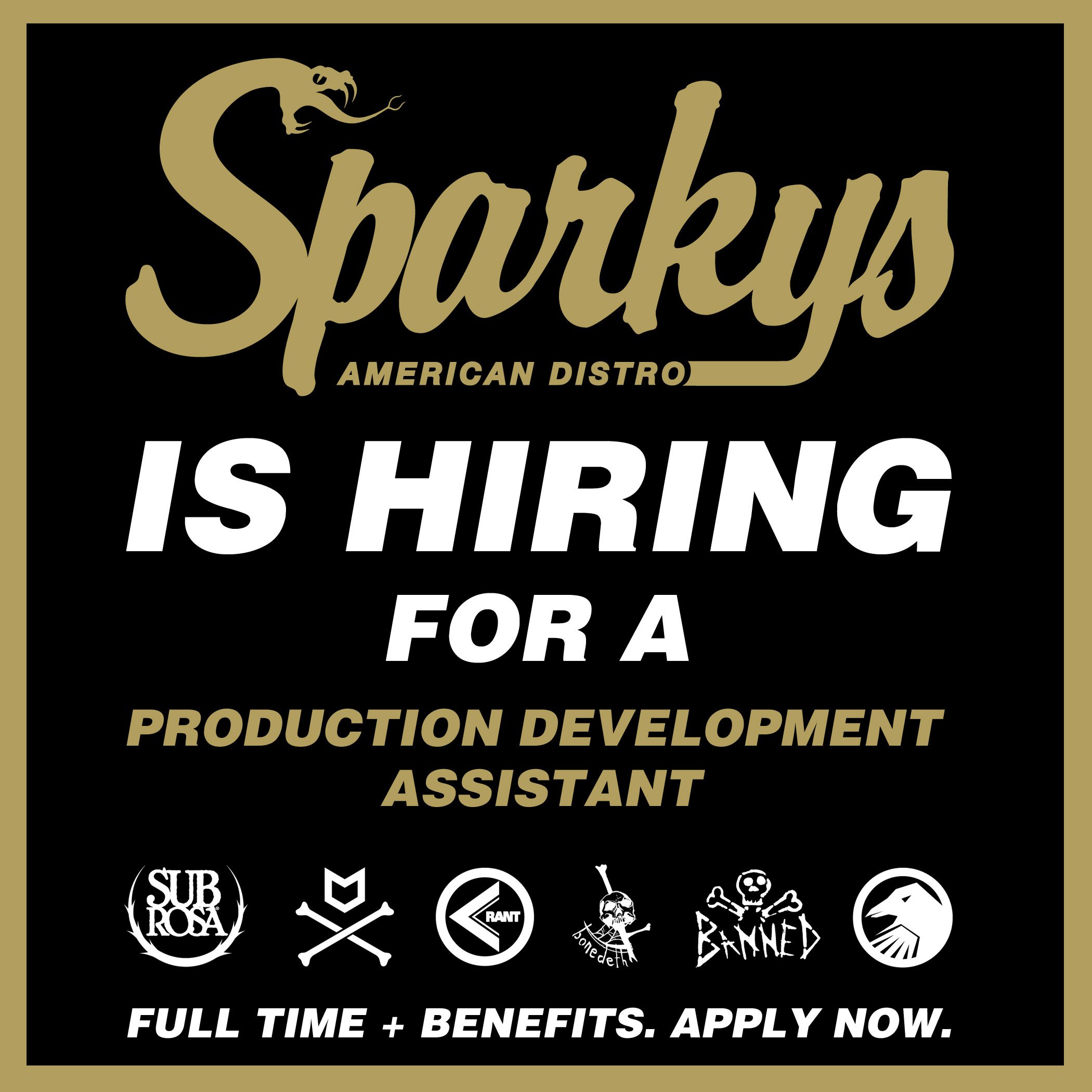 Sparkys Distribution is hiring!
We are currently hiring for a Production Development Assistant for our Production Department.
Sparky's is the home of brands like The Shadow Conspiracy, Subrosa, Bone Deth, and Banned and is located near Orlando, Florida
Summary:
This position will work with the Product Development Director, Product Design team, Production, Sales, & Creative Departments as well as external vendors including trading agents, manufacturing partners, and third party vendors as needed. Working closely with all of the above departments you will be involved in the thought process, creation, development, and presentation of our hardgood products. This position requires strong organizational skills, communication skills, both oral and written, as well as a strong work ethic, time management skills, a positive attitude, and forward and open minded thought process.
Primary responsibilities include but are not limited to:
The planning and organization of all product related concepts and information
The hosting and organization of weekly product related meetings and discussions
The scheduling and tracking of all projects through our project management tools
Coordination and direct involvement with product design team throughout the new product design process
Working with vendors on development of products until completion
Coordination with creative department on all new product related packaging and artwork needs
Collaboration with create department on product related media and marketing needs
Planning, negotiation, and confirmation of all product related pricing requirements
Planning, organization, and execution of all product related real world and machine testing
Organization and planning of new product release dates and information
Communication with all team riders and testing team riders on product related performance and related information
Quality Control and testing of current product line to meet expectations
Involvement in all product related presentation and information for yearly trade shows, sales and customers
Customer and fan communication regarding product questions, inquires and warranty submissions.
Position Requirements:
Thorough understanding of bicycle parts and products.
Detailed measurement and mathematical skills.
Base knowledge of bicycle manufacturing methods such as Welding, CNC Cutting, Forging, Etc.
Base knowledge of 3D design programs such as Solidworks, E-Drawings, & Auto Cad.
Experience reading two dimensional drawings and print outs.
Base knowledge in the use of graphic design software including Adobe Photoshop & illustrator
Proficient in the use of project management software including Basecamp & Gantt charts
Proficient with office productivity software including Microsoft Office.
Excellent written and oral communication skills
Ability to time manage in order to meet multiple deadlines
If you are interested and you feel you are qualified, please apply via e-mail using the subject line "Product Development Inquiry" with your resume, three professional references and salary requirements to mike@sparkysdistribution.com.
Resumes will only be accepted via e-mail. Phone calls or walk-ins will not be accepted.