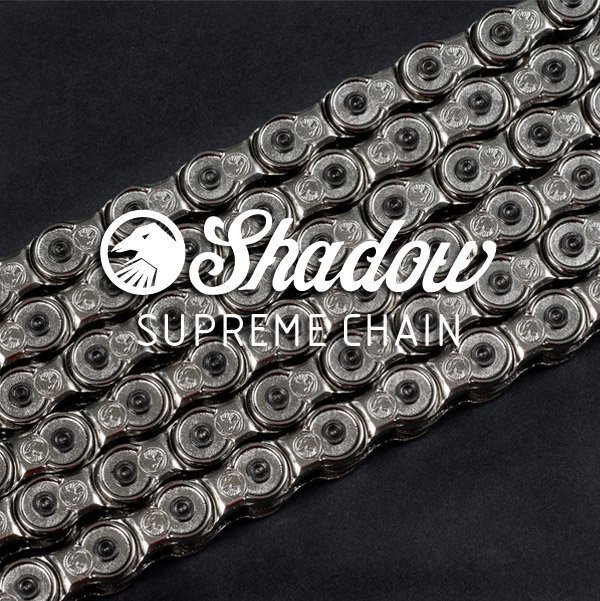 **UPDATE**
RELEASE DATE CHANGED
Due to delays of our inbound container that were beyond our control, the date will now be December 13th for the Supreme Chain Early Release.
What's one more week to wait for the best chain on the planet?
Finally, the moment we have all been waiting for. A special production of Interlock Supreme chains will be released on Saturday, December 13th.
These will only be available through a select group of dealers in the USA and only on December 13th. The first run will be a total of 300 chains in silver and will be distributed to our top dealers for your purchasing pleasure. The time has come to get your hands on the category smashing Interlock Supreme chain but only if you act fast!
Pushing the limits is an understatement when it comes to the Interlock Supreme chain. The original and best half-link chain that just got better. Using forging, a manufacturing process that has never been applied to a BMX chain before, we we're able to implement a completely unique plate and pin design to help eliminate all weak points and arguably create the strongest BMX chain ever.
Have a problem breaking chain links? Our new proprietary forging process allows us to condense the metal used in the chain plate to create the stiffest and hardest chain plate possible. Along with extra wide mushroomed pins and hardened rollers, this chain tested at an incredible tensile strength of 1500 kgs and higher! You can now ride in confidence knowing you have the best technology to keep you rollin' .
– 1/8″ size, includes 98 links and 2 master pins
– Compatible with 8T driver and up
– Weight: 11.1 oz. @ 72 links
Below is a list of the 22 shops and mail orders (with their Instagram account names) that will be receiving this chain:
50/50 BMX @5050bmx
Albe's BMX @albesbmx
Cottonwood Cycles @cottonwoodcycles
Cranx Bike Park @cranxbikepark
Daily Grind @dgbmx
Dan's Comp @danscompinstagram
East County BMX @ecbmx
Eastern Boarder @easternboarderbmx
Empire BMX @empirebmx
Epic Ride Shop @_epicbmx
Goods BMX @goodsbmx
Gordy's Bikes @gordysbicycles
Guerrilla Bikes @guerrillabikes
Herb Bauers Bike Shop @herbbauerbmx
House of Bicycles (no instagram)
Local BMX @localbmxco
Maul's Bike Shop @maulsbikeshop
Mr. Bikes and Boards @mrbikesnboards
OSS Store Los Angeles @onsomeshitla
Pusher BMX @pusher_bmx
The Wheel Mill @thewheelmill
Tony's Bikes @tonys_bikes
Make sure to make it out on Saturday, December 13th to cop the strongest chain on the planet!