The Shadow Inceptiv Fork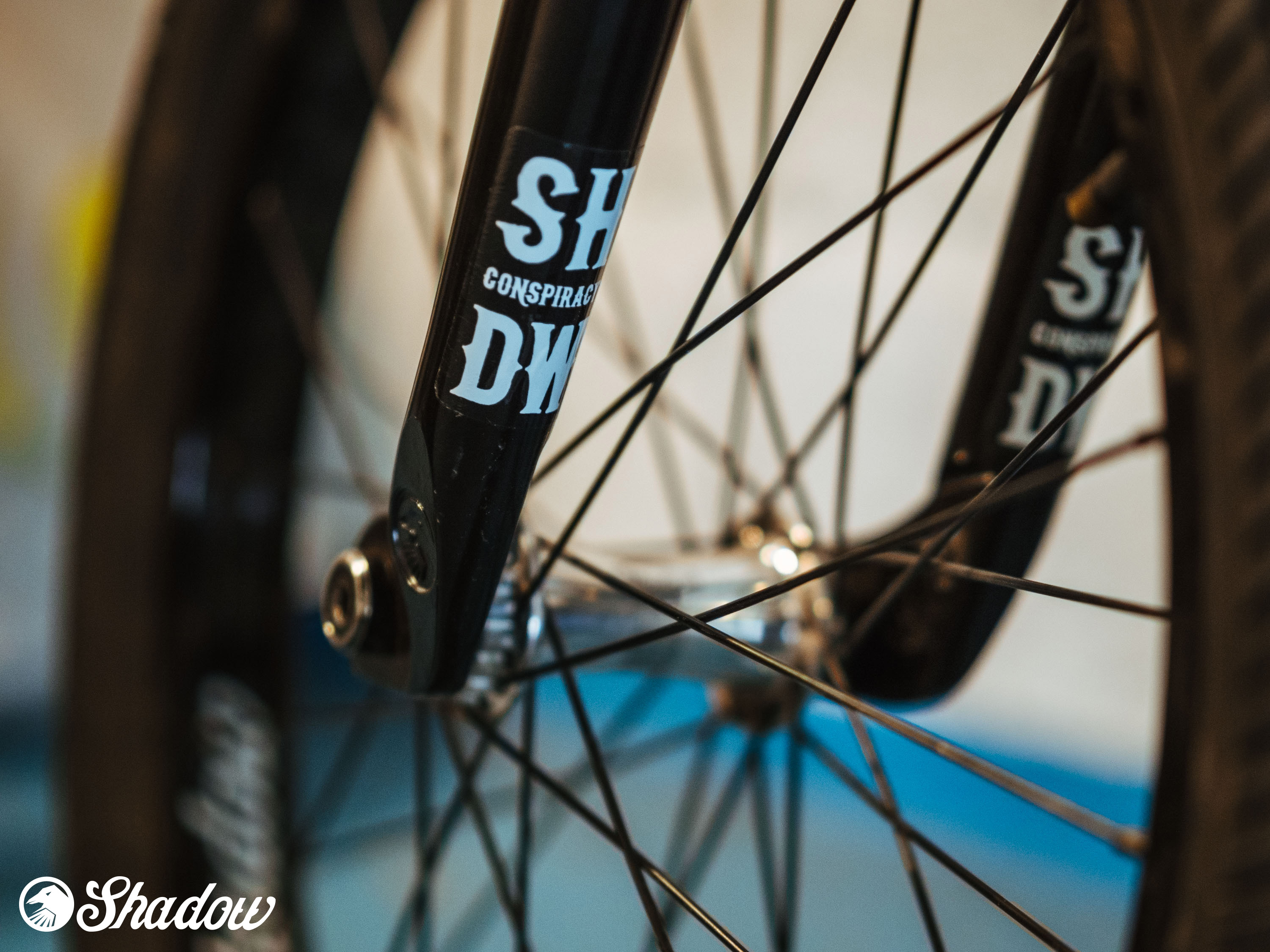 The Union did a write up on our Inceptiv Fork. The article reads as follows:
Insight: Shadow Conspiracy – Inceptiv Fork
There's been a lot of innovation going on in BMX lately. It seems like we've been seeing a lot of brands putting their efforts into quality and more unique products as of lately versus the constant re-branding catalog parts, which is always a good thing. One focus point we have been seeing in particular is the fork. We've been seeing a lot of efforts put into strengthening the fork in some key places with some newer technology being applied to it. A perfect example of this is the new Inceptiv fork from The Shadow Conspiracy which is a completely fresh design compared to their previous options available. Let's take a closer look to see what makes this new fork so good…
Inceptiv is a pretty interesting word that they chose to name this new fork. The word, which comes from the word inception, means "relating to or marking the beginning of something; initial" is a pretty bold word to use for something like a fork that has been around for quite a long time, but it's more geared toward a fresh start marking the beginning of a whole new style of fork that they have never produced before. I think the name is quite fitting once you really look closer at what makes it unique though.
The 26mm offset Inceptiv fork is made from 100% heat-treated chromoly tubing with a 165mm long 1-piece machined steerer tube that has an integrated bearing race, the 38mm oversized "King Crown" (which we will talk about more below), butted and tapered fork legs that have a larger tire clearance to fit those monstrous 2.40″ tires, 6mm thick Investment cast drop outs and a 6061 aluminum compression cap to keep everything tight.
King Crown? What is this? Well, it's something I'd imagine you will want to get familiar with because I'd imagine this will be catching on in BMX in the future. The King crown is the junction where the fork legs meet the steerer tube, which is oversized and larger than traditional BMX forks with a 38mm diameter. The use of the King Crown has a lot of benefits starting with the ability to use larger diameter legs, which increased the surface area for welding which helps improve the overall strength and allows for the stress put on the fork to be spread over a larger area to increase the overall life of the fork. The fork also has more bearing support, a more rigid feel with less flex, a smoother transition from the fork to the head tube on the frame for a clean look and an increased radius which helps give you more room for the big tires that have been gaining popularity as of late. A lot of benefits in this fork just based off that larger King Crown alone.
The next big feature of the Inceptiv fork is the use of Investment cast drop outs. Now, Investment casting has been around for a few years now and it's quickly gaining popularity due to the increased strength using that style of drop out versus the traditional welded on dropout is. Realistically, Shadow isn't the first and not the only people using the investment cast drop outs, but they have done a great job making there's look good. The drop outs are 6mm thick and shaped to seamlessly fit Shadow's pegs and hub guards perfectly along with some added aesthetic touches with the Crow logo that looks great and taking a little material out where the least amount of stress is put on the dropouts for some additional weight savings. As we mentioned above, the Inceptiv fork features a 26mm offset which is ideal for front end tricks like nose manuals and technical riding since it gives the bike a more responsive feel.
The next big feature you will notice on the Inceptiv fork is the legs. Shadow have bumped up the overall diameter at the top of the legs along with extra butting to improve strength on key stress points and weight savings where the least amount of stress is put on them. You can also see that they taper down towards those Investment cast drop outs. Having that larger diameter up top improves strength with more weld surface area and the tighter fit towards the drop outs for a clean look without sacrificing any strength.
A few of the other final key features would be that this fork is 100% heat-treated and comes with a LIFETIME WARRANTY that you can find out more about right here, the anti-rust ED coating under the paint and the new 6061 hard anodized alloy compression cap that uses a 3/8″ socket to tighten versus a 6mm allen key that was notorious for stripping out.
The Inceptiv fork is available worldwide now in colors of black, chrome and copper with a weight of 36.2 oz. The fork is available for $144.99 – $154.99 on Dan's Comp or you can have your local shop hit up Sparky's Distribution to get yourself one ordered up today if they don't have it in stock already!